Autocom Radio Connector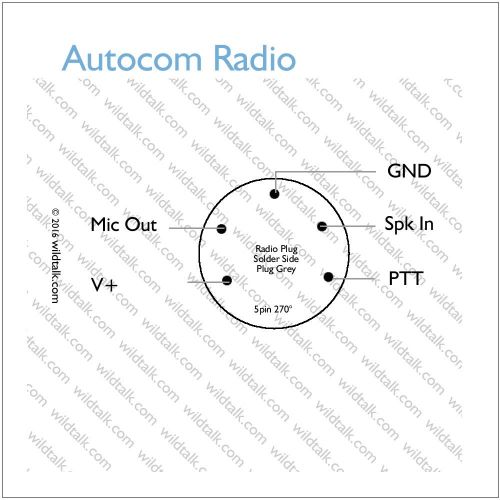 Ground.
Common ground
Spk In
Audio out from radio speaker port. (Take care radios with Bridge Tied Loadmamps (BTL) may need to be de-coupled using a capacitor)
Mic Out
Audio from Autocom to radio Mic Port.
PTT
The Autocom grounds this pin when PTT or VOX is triggered.
V+
Power output from Autocom. Voltage varies between Autocom models. Most handheld radios need between 7.5 and 9V so caution connecting the radio here.
| | | | |
| --- | --- | --- | --- |
| Autocom Version | Output Voltage | | |
| Pro M1 | 8.5V | | |
To see all our Motorcycle products please click here.
If you would like to use this data on your own website then please include this link: Information sourced from Wildtalk.com.
Use this data at your own risk. Wildtalk accepts no liability for any accidents or losses caused by use of this data.